ASG
Adjustable side guides – automatically or manually adjustable
Need
In today's world where quick changeovers are the norm, the changeover of conveying lines is often still very time-consuming.

Moreover, with today's increasing speeds, we want a line to be independent from the engineer who sets it, ensuring a quick and easy changeover. Besides, there's not always a technician available to set the guides.

For this reason, we have developed a range of easily adjustable side guides.

The guides
This system allows you to adjust the side guides automatically or manually: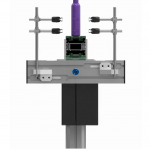 Automatically, servo-controlled:
You can simply enter the bottle width on the HMI screen, and the guiding clamps will adjust the side guides accordingly.
Manually, with handwheel:
To set straight sections.
Manually, with speed sets:
Plastic parts which are spring-loaded to allow for a quick changeover.
Fully manually
Check it out in the video below!


Our side guides were designed for blow moulding, by blow moulding technicians.
Furthermore, we apply the Six Sigma methodology when designing our machines over the years, which consists of 5 stages:
Define
Measure
Analyse
Improve
Control

As a result, we were able to design special parts and setting techniques, focusing on quick changeover:
For the corners, we have developed a special bottle-dependent part set (see video below), which allows you to change them quickly.
Corners in particular are difficult to set, especially with unstable products.
But our bottle-dependent part approach allows you to change a curve in less than one minute!

Setting techniques: For example, if you have to set up a guide, set one only, keep the other side fixed for 80 % of your products if possible. By doing so, you will save on changeover time.

For more info on conveying, you can download our technical catalogue.

OTHER VERSIONS
Flat belt conveyor – without vacuum: CFXXXX
Flat belt conveyor – with vacuum: CV200
Chain conveyor: CD083, CD254
Side grip conveyor: CSG

PRICE
RESOURCES
Si vous désirez plus d'information ou si vous avez des questions ou des remarques, n'hésitez pas à nous contacter:
Détails de contact